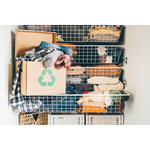 Happy 2021! If you're like me... you're finding yourself with an urge to purge and declutter your home to start off the new year. Especially at a point in time when more families are packing up and moving, spending extra time in the home, or maybe even buying more toys to keep the family entertained than we normally would, it's important to be mindful of what's being tossed into landfills. I've compiled a list of ways to be kind to the planet and avoid the "out of sight, out of mind" trash buildup, as we clean out our closets this year.
1) Resell at your local consignment shop or an online thrift shop
Approximately 80% of the world wears secondhand clothing. Not only does this save money, but it contributes to a more circular textile industry. If you have clothing and shoes in good condition, reselling is a great option. 
*You can find a local thrift shop using the
National Thrift Shop Directory
. 
Or, check out these Online Thrift and Vintage Clothing Stores to buy and sell:
Everyday Clothing:
High End and Vintage Clothing:
 2) Participate in a local swap shop or friend swap
Recycling can simply mean passing items on to be used and loved by someone else, and a local swap shop is a great way to do that (particularly for children's apparel!) Similarly, you can start a swap amongst friends and neighbors. Facebook Marketplace and NextDoor, are also both great ways to find local groups to swap with.
3) Donate gently used clothing, shoes, toys and books to a local charity, daycare center, shelter, or military families that are in need of such items. 
You don't have to purchase second hand to support the resale industry. Simply donating your gently used items to thrift stores and charitable organizations helps those in need, as well as the environment.
Make sure to only donate items in good, usable condition, though. Also, I recommend contacting the organization ahead of time to make sure there is an actual need for the items you have before dropping them off. *Donating is not an excuse to pawn your unwanted or broken items onto someone else who also does not want or need them.
4) Upcycle
Sure, old clothes make great cleaning rags, but they can also be repurposed into things like kids' costumes, bibs, smocks, pet beds, masks and more.
(And, if you are feeling extra crafty, you can check out some awesome upcycling ideas here: Genius Upcycling Ideas)
5) Recycle
The U.S. Environmental Protection Agency estimates that textile waste occupies nearly 5% of all landfill space. While the EPA estimates that the textile recycling industry recycles approximately 3.8 billion pounds of post-consumer textile waste (PCTW) each year, this only accounts for approximately 15% of all PCTW, leaving 85% in our landfills. This is a shocking statistic!
The good news, however, is that there are tons of amazing sustainable resources and organizations available to take your old clothing, accessories and textile items, and repurpose them for other uses, or recycle them responsibly to avoid having them end up in landfills! You can find a variety of organizations below to help do just that:
Imagine the difference it will make if together, we each take small steps to conserve resources to protect our planet (and save some money along the way).
Please share any additional resources below!